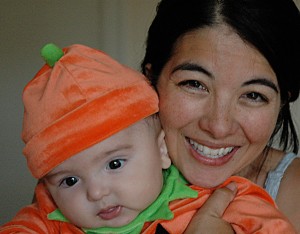 I love ART and ARTISTS, and always have.  I've always felt like I had the soul of an artist, and now thank the Gods & Godessess', I have the life of one. It sounds cliché, but LIFE IS MY ART and ART IS MY LIFE. All forms of art turn me on – dance, music, visual, literary. My life and art are about rhythm, flow, friendship, fun and trusting the universe. I guess, I always dreamed of being an artist, but until my forties, I hadn't created much visual art, aside from professional photography and video production. I was too caught up in working to survive and believing that one needs "talent" to be an artist.  A couple of years ago, as I was approaching my fortieth birthday, I sensed my soul shifting irrevocably.  No longer able to tolerate spending my life in a career "just for the money", and committed to honoring my path as an artist and teacher, I resigned from my well-paying corporate gig, to pursue more heartfelt ways of making a living.
I KNOW that honoring the ARTIST IN YOU, makes the world a better place.  Art heals.
I believe we are all artists, dancers, warriors and healers, and that my greatest role in life, besides being a wife and mother, is to help you develop and access the deepest part of your soul that yearns for more art, movement, magic and community.  Finding time to experience joy in your own creative self-expression is one of the most valuable gifts you can give to yourself and the world.   I look forward to creating together.
---
Help For New Artists That Want to Make Money…
Early in my art career I was looking for some guidance and inspiration on how to carve out a successful career as an artist, when I found, The Unconventional Guide to Art and Money: Thriving As an Artist Without Selling Out by Zoe Westhof & Chris Guillebeau.
It shifted my perspective from artists are destined to be poor and helped me to really learn about how other successful artists are monetizing their art careers in today's modern marketplace.
All the materials were easy to digest and I was able to listen to the audio interviews from my phone while I did other things.
His materials are great for people on the go.  This program is unlike any other book or class that I have taken, with it's mult-media approach.
I recommend Chris and his products to any creative souls that are just beginning their careers as artists and are looking for ways and means to get up to speed on how other artists are succeeding.
Unconventional Guides Product Page
---
TRAINING & PERSONAL STUDIES
The Awakened Heart Painting Workshop – Painting As A Spiritual Practice with Shiloh Sophia McCloud
Healdsburg, CA March 2009
Adult Art Class with Jen Burke of Young Artist Workspace
Berkeley, CA, Winter 2009
Mandala Teacher's Training Workshop with Paul Heussenstamm
Laguna Beach, CA, October 2008
Mandala Painting Workshop with Paul Heussenstamm
Harbin Hot Springs, CA, May 2008
Mandala Painting Workshop with Paul Heussenstamm
Santa Cruz, CA, October 2007
Mixed Media Collage Symbolic Icons with Anahata Katkin
Ashland, OR, August 2007
White Belt NIA Intensive Training with France-Laude Gohard
San Rafael, CA, July 2007
Process Painting with Heather Bleasdell
Sonoma, CA, May 2007
Scanner's Retreat – "Refuse to Choose!: A Revolutionary Program for Doing Everything That You Love" with Barbara Sher, based on a book by the same title
Corfu, Greece, October 2006
Mystery School of Art & Magic's Autumn Transformational Retreat with Mary Swanson & Heather Sullivan
Occidental, CA, September 2005
Self Portraits Expressive Art Therapy at Tamalpa Institute with Jamie Nisenbaum
San Anselmo, CA, July 2003
Fearless Journal with Heather Sullivan
Oakland, CA, October 2001
EDUCATION
Bachelor of Arts – San Francisco State University,  January 1995
Major:  Radio & Television
Minor: Dance
SOME THINGS I LOVE
Tap Dancing – I was a Tap Dancing Christmas Tree in the Macy's Thanksgiving Day  Parade in New York City
Can Can Dancing – I've performed with Pamm Drake's  Dance/10 at various locations around the Bay Area
Roller Skating – I played Professional Roller Derby with The New York Thunder at the San Jose Arena & Pleasanton Fairgrounds
Total Rhythm Dance & Drum workout and Hand Drumming Ensemble with Robert Wallace
All things mystical, i.e., tarot, astrology, intuitive development, wicca, magic wands, altars, pendulums, crystals
All things artsy and crafty, i.e. knitting, embroidery, sewing, making hand-made jewelry, block printing, collage
Learning languages, i.e., French, Spanish, Italian, Cantonese, Greek, and then traveling to places to use them
Hanging out with family and our tribe of huggers-our amazing community of friends
Snuggling with my husband Jason, and my chubby, baby Zackariah Sage